Cub Cadet Specialties
Oil Fluids and Hytran
(Today is: )

FREE shipping on orders of $299.00 or more .
Click the Parts Lookup Button BELOW to make sure you have the right PART NUMBER.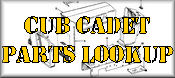 Click the Thumbnail to View Large Image
SHIPPING $10.00 PER ORDER to the lower 48 States.
International and Canadian orders Email for shipping cost before ordering.
ALL items with the

are ready to ship
Hytran Ultratraction Hydrostatic and Gear drive rear end fluid. One Gallon PN/ 73341722

Use only genuine Hytran fluid for your Cub Cadet.
Takes approx 7qts to change hydro fluid and filter.

$38.00 ea.

 
Cub Cadet OEM Hydrostat Oil Filter PN/ IH-395789-R2 723-3014 USE 923-3014

Will fit 123 thru 982, and some newer -s with the same style hydro

UPC 691024202947

 $14.00

 
Cub Cadet Kohler Oil Filter PN/ KH-52-050-02 USE KH-52-050-02-S

 $9.50

Cub Cadet hydraulic transmission fluid - One Quart PN/ 737-3025

$7.50 ea.

Original Cub Cadet Low Ash Engine Oil- One Quart PN/ 737-3029

Use only genuine Low Ash Oil for your Cub Cadet.

$8.00 ea.

CASE/IH AKCELA Low Ash Engine Oil- One Quart PN/ IH-407340-R1

Use only genuine Low Ash Oil for your Cub Cadet.

$9.00 ea.

CASE/IH AKCELA Low Ash Engine Oil- One Gallon PN/ 139037A1

Use only genuine Low Ash Oil for your Cub Cadet.

$34.00 ea.

NOS Kohler Winter blend 5W30Engine Oil PN/ KH-25-757-03

NLA from Kohler

$9.00 ea.

 
Marvel Mystery Oil

Helps prevent sticking exhaust valves common in K-series Kohlers!!

$9.00

 
 Cub Cadet Extreme Pressure Grease 14 oz. tube PN/ IH-407188-R1 USE 737-3034
$7.00

 
 IH -  

 $0.00

 
 IH -  

 $0.00

 
 IH -
$0.00

Click Below to Email Us:

Copyright CC Specialties. All rights reserved. 2003-19

* Discounts only apply to the lower 48 States.

DISCLAIMER

Cub Cadet Specialties is not affiliated with or sponsored by MTD Products Inc, which owns the Cub Cadet trademarks. MTD Products Inc.
is not responsible for the accuracy or quality of the material presented on this website.

For more information concerning the latest in Cub Cadet tractors, please visit www.cubcadet.com

This website contains no material provided by MTD Products Inc, is not affiliated with or sponsored by MTD Products Inc, which owns the CUB CADET trademarks. It is not an official MTD Products Inc, website, and MTD Products Inc, is not responsible for any of its content. The official MTD Products Inc, website can be found at: www.mtdproducts.com/equipment/

The information and opinions expressed on this website, including the bulletin boards and/or chat rooms hosted on this site are the responsibility of the website's owner and/or visitors,
and do not represent the opinions of MTD Products Inc.

searchTest fluids